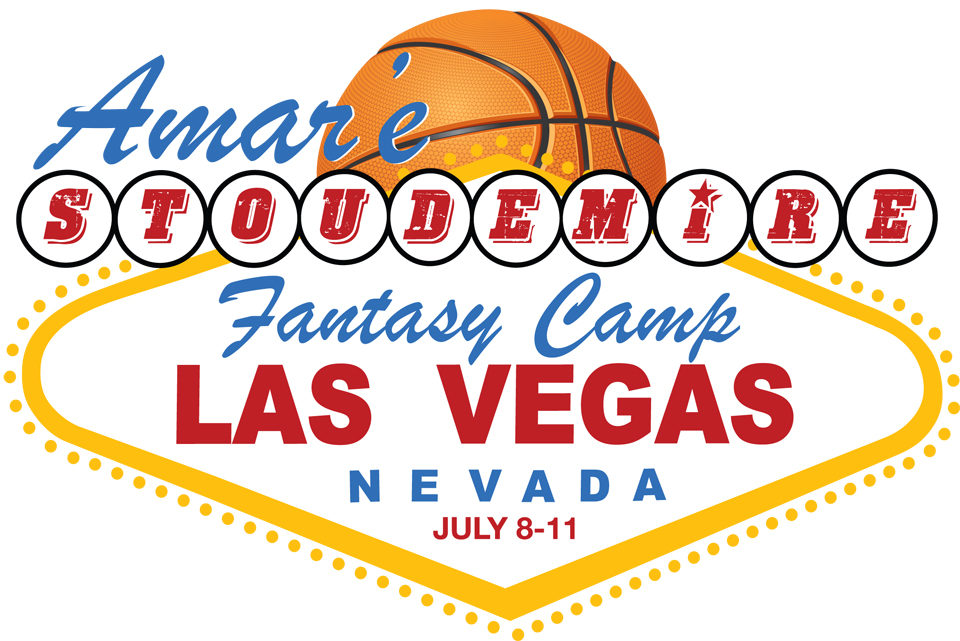 Dates
July 8-11, 2013
Check-in: Monday, July 8th from 2:00 – 6:00 pm
Camp Details
The Amar'e Stoudemire Fantasy Camp is a once-in-a-lifetime opportunity for the ultimate basketball fan. Every camper will spend three days with Amar'e and his NBA friends both on and off the basketball court. Along the way campers will get to experience NBA style workouts and coaching from some of the games elite.
A dynamic social program, including a celebrity blackjack tournament and other Las Vegas evening events will round out the Fantasy Camp experience.
Camp Includes:
Living a couple days (July 8-11, 2013) in the life of an NBA basketball player
Exclusive bag of NIKE branded Amar'e apparel and gear
Expert coaching from New York Knick player and coaches, current and former NBA players and elite college coaches
Guest speakers
Opportunity to train and experience what it takes to compete at the NBA level
Special evening events each night hosted by Amar'e and friends
All ground transportation, meals & hotel accommodations
Location
All campers will stay at the INSERT HOTEL.
Facilities
Basketball activities will be held in a uniquely built basketball setup on the grounds of INSERT HOTEL. Camp dinners and evening events will be held around Las Vegas.
Eligibility
Basketball Playing Participants:
Player – Camper: 35 years old or older
Players must be physically able to participate in basketball activities & games.
Transportation
Participants are responsible for their own travel to and from the Las Vegas area. Ground Transportation from Las Vegas airport to hotel and all camp activities will be provided. Participants traveling by air are recommended to arrive by 3:00 pm.
Please email all flight details by June 24, 2013 to marc.steigerwalt@positionsports.com.
Accommodations
All campers will reside in….
Overview of hotel with photos
FAQs
Location: The Amare Stoudemire Fantasy camp will take place at INSERT HOTEL.
Dates: The Amar'e Stoudemire Fantasy Camp will cover four days and three nights beginning Monday, July 8th and finishing on Thursday morning, July 11th.
Eligibility: To be to participate in the Amar'e Stoudemire Fantasy Camp, you must be at least 35 years of age or older and physically able to engage in the various camp activities and games.
Guests: Each participant is welcome to bring a guest to stay with him or her at the hotel. All camp functions though will be for participants only.
Transportation: Amar'e Stoudemire Fantasy Camp participants are responsible for their own transportation to and from Las Vegas. Ground transportation from Las Vegas airport to hotel and all camp activities will be provided.
Dining: Breakfast and lunch for all participants will be served buffet style in a private meeting room. Each night will feature a different social program and dinner.
Medical Staff: For your safety, athletic trainers will be on-site during the entire camp and a physician will be on call.
Costs: The one-time cost of $10,000 includes meals, your hotel and all camp amenities. The payment is accepted on a first-come, first served basis and we anticipate a full camp. You are encouraged to register online and pay your deposit to hold your spot. The remaining balance can be sent via check or money order. Your payment will be tax deductible.
Cancellation Policy: A $1,000 non-refundable deposit will be kept if the camper cannot attend. If the camper cannot attend and their space is not able to be filled by June 8, 2013, the entire payment of $10,000 will be non-refundable.
Register
Are you interested in attending the first annual Amar'e Stoudemire Fantasy Camp? Camp Tuition is $10,000. Enrollment is limited and campers will be taken on a first come first serve basis.
Upon completing the registration form below, a non-refundable deposit of $1,000 will need to be made via credit card to hold your spot in camp. After you have completed our online registration the remaining balance will need to be paid via check or money order to secure your spot. An email outlining your next steps will be sent upon completing the online registration process.
Please fill out the information below or click here to download a registration form.
(insert cform)
Please click here to review the Camp Waiver. By clicking the checkbox below YES, you agreed to the terms of this agreement.
*Waiver text "I hereby hold the Amar'e Stoudemire Fantasy Camp, the Amar'e Stoudemire Foundation, Position Sports, Inc., camp staff and the INSERT HOTEL NAME WHEN WE HAVE IT free from liability should any injury or illness befall on me while I am in attendance at the Amar'e Stoudemire Fantasy Camp. I also authorize the coaches and staff of the Amar'e Stoudemire Fantasy Camp to secure medical treatment for me should I not be able to request such treatment for myself. I have no knowledge of any existing physical impairment that would affect my participation in this program. In addition, I authorize the Amar'e Stoudemire Fantasy Camp to use any photography of me taken during the program for us in publicizing and advertising future Amar'e Stoudemire Fantasy Camps."
*can we make it so that after they fill in the above info they have to hit register which will then take them to paypal to pay the $1k deposit. Once they complete the deposit can we then have an email sent to them confirming their registration and payment. I know paypal sends their own email but is there a way to wait for our confirmation email to be sent until we know they have paid? Or will our confirmation email be sent to them once they hit register and then we just have to assume they will go and do paypal? I just want to avoid whoever going on and filling out the registration form and never going to pay so we don't have to weed through to many people just being idiots. I will also have someone on my staff followup with each registered camper to confirm their participating as well as a secondary confirmation for us.
If you would like to mail in your registration please click here to download the REGISTRATION FORM.
Contact
(insert cform)
Marc Steigerwalt
P. 480-318-1455
E. marc.steigerwalt@positionsports.com
Position Sports, Inc.
4852 E. Baseline Rd. #105
Mesa, AZ 85206