Last Night, January 27th,2016 NBA Star and art collector, Amar'e Stoudemire celebrated his new initiative 'In the Paint Series" presented by Melech Collection, with a celebratory dinner at NYC's hottest art inspired restaurant and lounge, Vandal. The In the Paint Series creates live art installation events for charity to inspire underprivileged youth with art. After a kick off in LA with artist Retna and just off the heels of its second stop in Chicago with artist Hebru Brantley, Stoudemire celebrated the initiative's success in NYC. The former NY Knick received a warm welcome back by NYC's finest NY Yankee CC Sabathia and NY rapper Fabolous. While guests enjoyed libations and a curated menu by D'USSE, Stoudemire was presented with paintings by artists Devon Troy and Quiana Parks.
New York based contemporary artists duo Patrick Miller and Patrick McNeil of Faile, artist Royal Jarmon, New York curator and gallerist George Benias and artist Taylor Mckimens, were also among those who applauded the Miami heat player's art initiative.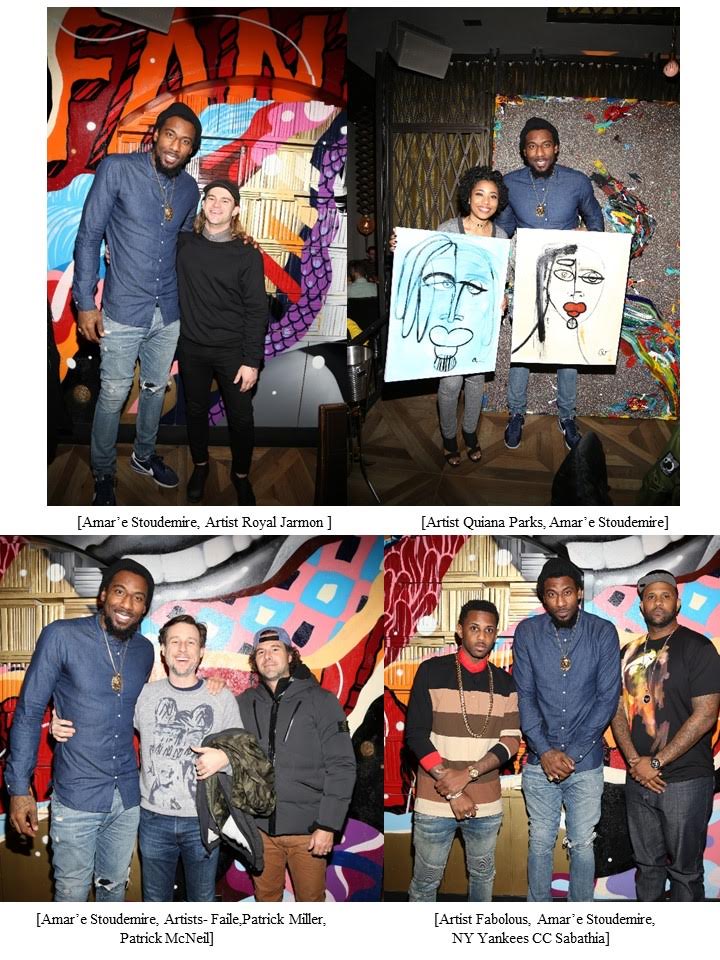 ABOUT IN THE PAINT SERIES
Is an experiential art series targeting underprivileged youth in communities across the country to expose them to the arts and basketball. It's a play off "In the paint"- a term used in basketball and in art, a celebration of Stoudemire's love for both. Through his own Melech Collection, his artistic platform, he will connect with local emerging contemporary artists to create "In The Paint" experiential events which will include live art installations, where he and the artists will paint together with youth in the community. Stoudemire's goal, with the help of leading artists in regions throughout the country, is to start this nationwide movement, that will launch in various cities, to engage youth and aspiring art enthusiasts and expose them to the arts and basketball.
ABOUT MELECH COLLECTION
Amar'e has launched The Melech Collection, which translated means KING, a fitting title for a man who is leading a movement in synergizing and combining cultures that have seldom, if ever, been intertwined-art, sports, and pop culture. The Melech Collection is a platform to simultaneously educate and introduce to mainstream pop culture, emerging artists and the industry of contemporary art. Through The Melech Collection's platform, Amar'e is actively providing tools and knowledge to educate those in both the sports and pop demographics on the art behind collecting, serving as a curator and spokesperson for emerging artists, aligning with them to both build their brand and increase the public's awareness around those artists that he personally believes in. Taking it one step further Amar'e is making art accessible not just for the wealthy, choosing art that can be affordable to young athletes and celebrities alike, grooming spectators to become players and participants in this art movement.