New York Knicks Amar'e Stoudemire's commitment to his health never wavers.
Even with the last game of the 2013-14 NBA season, there is no off-season for STAT when it comes to his health.  Before the Knicks final home game versus the Toronto Raptors on Wednesday, Stoudemire tweeted a photo of his pregame meal of Pan Seared Chicken Breast with sautéed asparagus, grilled baby sweet peppers, toasted sesame seeds with date honey glaze.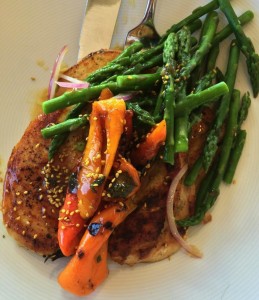 For optimal health and performance, Amar'e's personal Chef Max Hardy ensures Stoudemire consumes a balanced diet with balanced amounts of vitamins, minerals, carbohydrates, protein and fat.
To learn more about Chef Max's personal recipes click HERE