By AJ Curry
After Amar'e Stoudemire posted a picture to his Instagram account of his red wine bath, everyone from spas, to journalists, to other athletes got inspired to follow Amar'e's lead and try it for themselves.
Check out their reviews of Amar'e-Inspired Vinotherapy.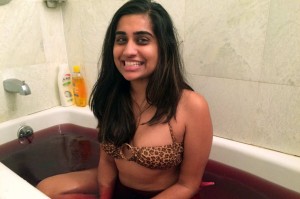 "I Tried 'Vinotherapy,' aka Bathing in Red Wine" by Beejoli Shah
Amar'e Stoudemire, professional fashionista and occasional power forward for the New York Knickerbockers, knows how to live well. So when the NBA's highest-paid sixth man took to Instagram to share a photo of himself submerged in a tub full of red wine — and told reporters that the wine baths helped improve his circulation — I was curious. Could wine baths help me? Might they stop the crippling charley-horse cramps that plague me at inopportune times?
To continue reading, visit New York Magazine.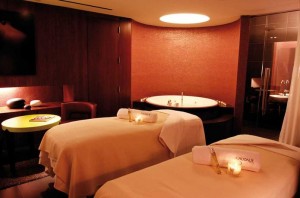 "Beauty Road Test: We Bathed in Booze" by Emily Farra
The Style.com office was buzzing last week when New York Knicks power forward Amar'e Stoudemire posted a photo of himself bathing in red wine (largely because we all wanted in on that happy-hour spa special). At first glance, it seemed like an over-the-top pampering session (albeit one Bacchus might engage in), but the bubbly concoction actually boasts a slew of benefits, like increasing red blood cell circulation and soothing muscles, a necessary indulgence after preseason games.
To continue reading, visit Style.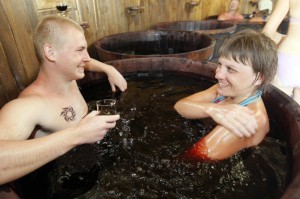 "Why Amar'e Stoudemire and a Bunch of Other Rich People Are Bathing in Red Wine" by Matthew Giles
Vinotherapy is typically a province of models and celebrities, but Stoudemire isn't the only athlete to enjoy vinotherapy-style pampering. Patrice Evra, who is one of the France's top soccer players, goes to the Plaza frequently for grape seed oil massages, and San Antonio Spurs future Hall of Fame guard Tony Parker, who is of French extract, has trekked to Bordeaux for everything from anti-aging to circulation treatments.
To continue reading, visit Science of Us.
Comment below if you've tried Vinotherapy thanks to Amar'e famous bath.