Mini Fish Tacos with Cilantro Crème Fraiche
Makes: 6 tacos
See below for Contest details!
For the Mango Salsa:
2 mangoes
1⁄4 chopped red onion
2 tablespoons chopped fresh cilantro leaves, stemmed
2 tablespoons olive oil
1⁄2 chopped jalapeno pepper
1⁄4 diced green bell pepper
1 teaspoon agave nectar
Juice of 1 orange
Salt and freshly ground black pepper to taste
For the tacos:
1 pound grouper fillet
2 tablespoons Chef Max Spice Blend
1 cup all-purpose flour
Kosher salt and freshly ground black pepper to taste
1⁄2 cup olive oil
1⁄4 cup crème fraiche or sour cream
4 tablespoons cilantro leaves, stemmed, divided
6 small corn tortillas
1⁄4 cup shredded purple cabbage
1 lime, cut into sixths
Directions
1. Make the Mango Salsa: In a small bowl, toss mango, red onion, cilantro, olive oil,
jalapeno pepper, bell pepper, agave nectar, orange juice, salt, and pepper. Cover and
refrigerate.
2. In a medium bowl, sprinkle the grouper with the Chef Max Spice Blend. Set aside.
3. Preheat a 10-inch sauté pan over medium heat for 1 minute. Season the flour with
some salt and pepper. Dust the grouper with the flour. Pour the olive oil into the sauté
pan and when it sizzles, add the grouper. Sauté the grouper for about 3 minutes, or until
done. Remove the grouper from the sauté pan and cut it into bite-sized chunks.
4. In a small bowl, whisk the sour cream with half the cilantro and some salt and pepper.
5. Warm the corn tortillas in a small sauté pan for about 30 seconds.
6. To make the tacos, place some grouper in the center of each tortilla. Add some
shredded cabbage and Mango Salsa. Top with sour cream and garnish with the remaining
cilantro. Serve the lime wedges on the side.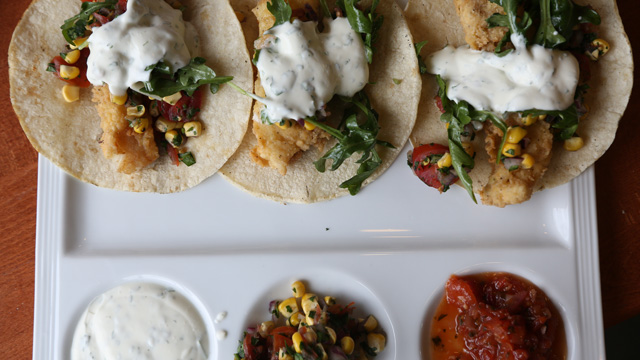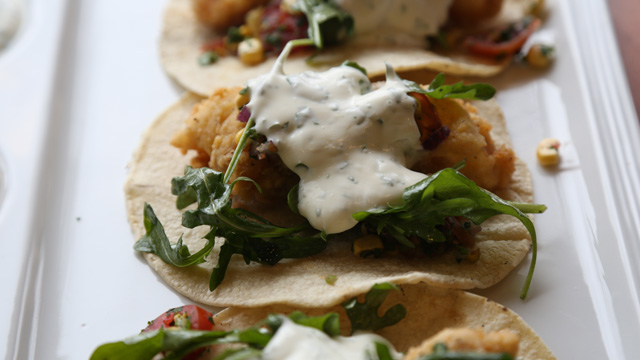 Want to win a copy of Cooking With Amar'e? Submit a picture of your healthy meal today Friday, June 20th, 2014 for a chance to win. Please follow @Amareisreal on Twitter and include #CookingWithAmare so that we can find your submission. Only submissions made today, Friday, June 20th, 2014 via Twitter will be accepted for this contest. 
Follow @Amareisreal on Twitter for all of Amar'e's latest updates and contests!