New York Knicks power forward Amar'e Stoudemire possesses enviable, high-flying moves on the court, but not many people outside of his family and close friends know of his slam-dunk kitchen skills. Nearly four years ago, the six-time NBA All-Star wanted to become a comfortable, experienced cook able to whip up tasty, healthy dishes for his family and friends. He enlisted the help of his close friend, co-author and celebrity chef Maxcel Hardy and is now giving people a playbook to impress their most valuable fans at home.
COOKING WITH AMAR'E: 100 Easy Recipes for Pros & Rookies in the Kitchen is an engaging chronicle of their at-home cooking lessons — a unique, collaborative cookbook featuring stories, recipes, tips, advice, and instructions on cooking techniques, equipment, shopping, party planning, and preparation for home cooks of all levels. Comprehensive and convenient, it allows beginners and practiced cooks to hone their kitchen skills and master dishes at their own pace.
COOKING WITH AMAR'E includes more than 100 healthy and delicious recipes the whole family can enjoy, that blend French, Southern, Asian, and Caribbean traditions and flavors, and use ingredients anyone can find from their local grocery store. Many satisfying vegetarian recipes are also included since Amar'e frequently eats only vegetarian during the season.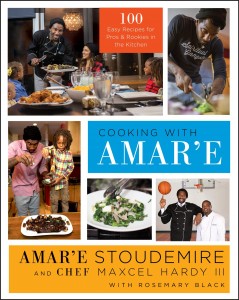 Recipes include:
The Essentials: Chicken Stock, Cream Sauce, Simple Vinaigrette, and Roasted Corn Relish Warm-Up: California Frittata, Tropical Smoothies, Cheese Grits and Sweet Potato Waffles
Break for Lunch: Curried Chicken and Rice Soup, Roasted Vegetable and Goat Cheese Flatbread, and Mini Fish Tacos with Cilantro Crème Fraiche
Team Dinner: Braised Barbeque Beef Ribs, Grilled Veal Chops with Peach and Apple Chutney, Herb-Crusted Sea Bass with Champagne Curry Cream, and Tomato and Radish Slaw Entertaining (cocktails): The Hardy, Pearsecco, and Miss Pimm's Muddle
Game Day: Avocado Hummus, Coconut Beans and Rice, Vegetarian Chili, and Couscous salad Sweet Victory: Peach Cobbler, Peanut Butter Cookie Sandwiches, and White Chocolate and Banana Bread Pudding
Time out for Family: Country Fried Steak, Fish and Grits and Braised Kale with Garlicky Turnips
In addition to these delicious dishes — some created by Hardy for his many celebrity clients and others based on the traditional Southern dishes both men enjoyed growing up — this straightforward guide is filled with savory personal anecdotes, from humorous stories of working together as Amar'e learned to cook, to Amar'e and Maxcel's personal reminiscences.
Designed in an easy-to-follow and engaging format, illustrated with full color photos, this practical and fun cookbook is sure to become a trusted favorite.
About the Authors:
Amar'e Stoudemire is a power forward for the New York Knicks and a six-time NBA All-Star. A married father of four, Amar'e is dedicated to helping children learn. Along with his wife, he founded the Alexis and Amar'e Stoudemire Foundation to creatively inspire youth to get an education and avoid poverty, and he authored a semi-autographical children's series, STAT, to inspire young readers. Amar'e is also an actor, producer, motivational speaker, and co-owner of Hapoel Basketball Team of Jerusalem.
Chef Maxcel Hardy is a chef to the stars and the personal chef for NBA All-Star Amar'e Stoudemire. With more than thirteen years of culinary experience, Chef Max has catered for award-winning musicians, actors, athletes, and dignitaries. Outside of the kitchen, he created Chef Max Designs, his chef apparel line, and in 2011 he founded One Chef Can 86 Hunger. The foundation's mission is to fight the hunger crisis in America and educate people on a healthy lifestyle cost-effectively; the foundation has also created a culinary program for the Opportunity Charter School in Harlem.