By Dakota Durant
The NBA season is a long one. Over the course of eighty two games, teammates become more than just friends. After long nights, long travels, and battles on the basketball court, a team becomes more than just a group of players; they become a family. Or if you're a Knickerbocker, you become a member of the "Knickstape."
On June 29th, Amar'e Stoudemire married Alexis Welch in Miami, Florida, and of course his fellow Knickstape members were present for the beautiful celebration. Players like Iman Shumpert and JR Smith took to Instagram to share some photos; the players of course all looked dapper in their suits. Other Knicks attendees included Carmelo Anthony and Allan Houston.
Along with an amazing reception came great friends, great food, and great stories. Amar'e's personal chef Max Hardy, wowed the guests with his delicious food. Chef Max, who prepared the Pan Seared Sea Bass for the event, shared a "crazy story" of his own. He revealed that while on his way to the wedding, with the fish prepared, he had to "brake quickly and the speed rack with the sea bass on it came flying to the front of the truck". Half of the fish, which calls for garlic, lemon and white wine, was now gone. However, Chef Max found a way to replace it all; he "made a quick call to a fish vendor and rushed another 50 lbs., two hours before the wedding." Although it was cutting it close, it turned out that the new fish was nothing short of delicious. As Max recalls, "No one knew what happened and the fish was the hit of the wedding, all the Knicks players asked for double portions." Some things just happen to work out for the best.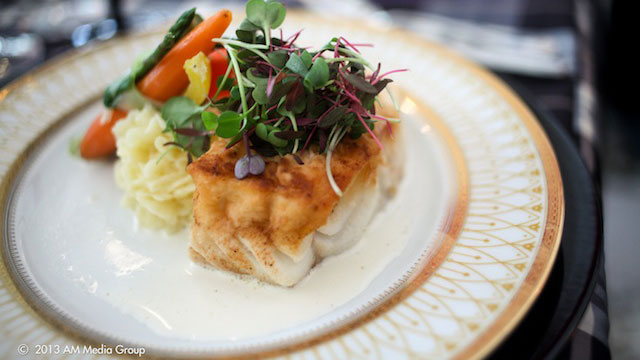 Here's the recipe for Chef Max's famous Pan Seared Sea Bass and sides:
Pan Seared Sea Bass
2 Lb. Sea bass (6 oz. Medallions)
1 Lemon (Juiced)
2 Cloves Garlic (Minced)
½ Bunch Cilantro (Chopped)
S&P
½ cup of Olive Oil
¼ Whole Butter
White Wine
2-Cup Seasoned Flour (Flour with 2 oz. of your Favorite Seasoning)
Direction
Pre-Heat Oven to 350
Marinate Fish with ¼ cup Olive Oil, Lemon Juice Cilantro, S&P, let marinate for 30 Minutes. Pre-heat large Sauté Pan to middle high heat place remaining olive oil and butter in pan. Roll Sea bass on both sides in season flour, and sear fish until golden brown on both sides. Place fish in Baking pan with the white wine and bake for 15 minutes.
Garlic & Roasted Shallot Mash Potato
3 Cloves Garlic, Roasted and Chopped
2 Shallots , Roasted and Chopped
¼ lb. Butter
1 cup Heavy Cream
2 lb. Yukon Potato
Preheat Oven to 350 degrees, place Garlic & Shallots in Pan and roasted until Golden Brown and Caramelized.
Put potatoes into halves into a saucepan. Add 1/2 teaspoon salt. Add water until potatoes are covered. Bring to boil, reduce heat and simmer, covered, 15-20 minutes, or until done – a fork can easily be poked through them.
Warm cream and melt butter, together, in a pan on the stove. Drain water from potatoes. Put hot potatoes into a bowl. Add ½ cup of cream and melted butter Garlic and Shallots. Use potato masher to mash potatoes until well mashed. Use a strong spoon to beat further, adding remaining heavy cream to achieve the consistency you desire. (Do not over-beat or your potatoes will get gluey.) Salt and pepper to taste.
Roasted Herb Tomatoes
5 Plum Tomato, Cut into halves and Tips off
5 Garlic Cloves, Minced
¼ lb. Basil, Chopped
¼ lb. Cilantro, Chopped
¼ lb. Thyme, Chopped
¼ cup Olive Oil
1 lb. Parmesan Cheese, Grounded
Preheat oven to 375, Mix all ingredients in mixing bowl, place tomato presentation side up on non-stick sheet pans and spoon herb mix on top, garnish with cheese and bake for 25 minutes.
Serve Sea Bass, with Roasted Garlic & Shallot Mash, Garnish with Roasted Tomato. Enjoy with your favorite White Wine!