by Melanie Evans Rivera
Ever since Amar'e Stoudemire came to New York to join the New York Knicks, his off-court life has often been as fascinating to fans as his on court performance. Amar'e's interest in fashion is well known, as is his love of great food. His ongoing pursuit of the ultimate healthy diet for an athlete who is as active as he is, with nutrition becoming especially important during his rehab stints, has been well chronicled.
Amar'e is fortunate enough to have had some expert help over the years from his personal chef and friend Chef Max Hardy. Before making a major diet switch, Amare's favorite pre-game meals were hearty classics like Buttermilk Fried Chicken and Sweet Potato Waffles. Chef Max was then challenged when Stoudemire became interested in the idea of following a kosher diet, and then even more so when, after his knee surgery left him out of action during the pre-season in 2013, Amar'e began exploring the possible benefits of a vegan diet.
It is hard for many people to imagine how a vegan diet, which Amar'e followed all season long, with the exception of a week long hiatus in February, could possibly sustain a 6 foot 11 inch, 245 pound man, never mind a world class athlete. However, with the assistance of Chef Max, Amar'e proved it is more than possible and actually credits the diet with helping speed his recovery from knee surgery.
His favorite vegetables, asparagus, Brussels sprouts and leafy green salads are especially beneficial. Stoudemire told the New York Post. "It fortifies the blood. It helped me recover and persevere through injuries. I did that for three months. I wanted to really give myself the best opportunity to remain healthy."
So what kind of pregame meal does Amar'e eat when his favorite chicken and Chilean sea bass were off the menu? A few months ago, Chef Max and 'Chef' STAT made a video (below) that detailed, step by step, how they create a hearty vegetarian chili that is packed with all the protein that any athlete needs.
Chef Max and Amare Stoudemire – Vegetarian Chili from Am Media Group on Vimeo.
Whether he is following a vegetarian diet, an all vegan diet, or on a break to enjoy some of the foods he misses, Amar'e sets a great example to us all, especially kids, that eating healthy food can really have a positive impact on our health and our lives, and still taste great as well.
Recipe of the Month
Citrus Swordfish with Coconut Rice Tropical Citrus & Cilantro Salsa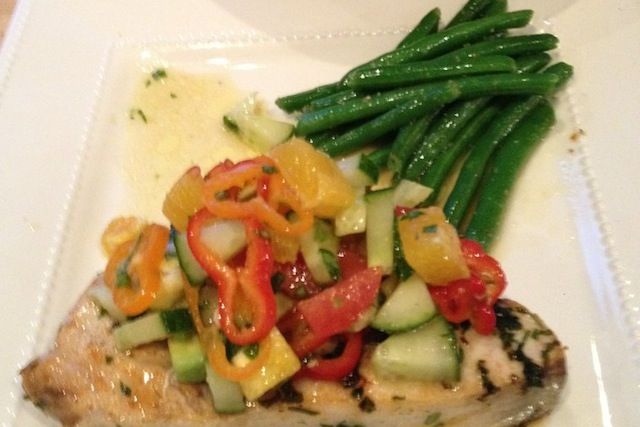 Serves 4
Ingredients
4 – 6 ounces swordfish steaks
1 navel orange (segmented & juiced)
1 cup Pineapple (Small Diced)
2 limes (segmented & juiced)
1 pink grapefruit (segmented & juiced)
6 small wonton skins (julienned & fried crisp)
¼ cup cilantro (chopped)
1 tablespoon garlic (chopped)
2 tablespoon champagne Vinegar
1 tablespoon sugar
Fish Method
Mix together the juice from the orange, limes and grapefruit and place the swordfish steaks into the citrus juice and season with salt and pepper. Allow the fish to marinate in the citrus juice for 20 minutes.
Heat a grill pan over high heat and brush lightly with oil or spray with a non-stick cooking spray. Remove the fish from the citrus juice and place onto the preheated grill. Cook the fish for 3-4 minutes on each side.
In a medium sized mixing bowl gently stir together the citrus segments, pineapple, cilantro, garlic, vinegar, sugar, and. Season the citrus salad to taste with salt and pepper.
When the swordfish has been cooked thoroughly, remove from the grill and place onto a serving platter or in individual plates. Toss the crispy fried wonton strips into the citrus salad and top the grilled swordfish steaks & Rice, serve immediately.
Coconut Rice
Yields 3 cups
Ingredients
2 cups Basmati or Jasmine Rice
1 spanish onion (diced)
3 cups unsweetened coconut milk
½ cup water
½ cup coconut (toasted)
Method
Heat a large saucepan with a little vegetable oil add the diced onion and cook until translucent, add rice and stir to coat each grain separately.
Add coconut milk and water stir once, cover with a lid and leave on high heat and when liquid comes to a boil and steam starts to escape turn the burner off and set rice aside. Do not peak for at least 20 minutes.
Once time has elapsed take lid off and fluff rice with a fork and add salt and pepper and coconut.
See other STAT FUEL pics here.